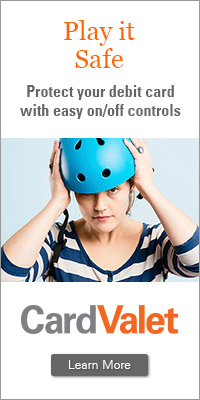 Check Cards
Our VISA® Check Card works like a check, but has the convenience of a credit card. With a simple swipe, you can pay for your purchases at any retail merchant including supermarkets and gas stations displaying the VISA® logo, and the funds are automatically deducted directly from your Argent checking account.
Use it instead of writing checks to pay for purchases anywhere you see the VISA® logo.
Get cash back. Simply choose debit when you pay for a purchase and tell the clerk you want cash back.
Use it at an ATM to obtain cash, make transfers and balance inquiries at over 200,000 VISA®, Exchange, Cirrus and Credit Union 24 ATMs. Find an ATM near you.
No more need to carry cash when you have an Argent VISA® Check Card.
Take advantage of select discounts by shopping with your VISA® Check Card.
You can even proactively manage your Check Card card account anytime, anywhere through your smart phones with CardValetTM. Learn how to safeguard your cards from fraud »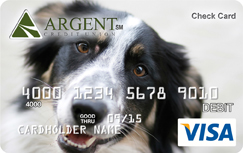 Customize Your Check Card
Customize Your Check Card
Show off the things that are most important to you.  It only takes a few minutes to customize your Check Card.  Details
Card Protection
Lost or Stolen Card
To speak to someone about a lost or stolen debit card, simply call (800) 472-3272 within the U.S. and (973) 656-2345 internationally.
Check Card Protection
Protect your VISA® Check Card when you shop online with Verified by VISA®. This FREE service uses personal passwords to verify that you are the owner of the Check Card when you make purchases online at participating merchants.
Simply click here to enroll. Once activated, Verified by VISA® protects you at every participating online merchant so only you can use your card. Then anytime you shop online at a participating merchant, just use your personal password to receive online shopping protection.