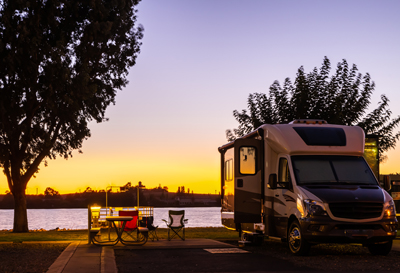 RV Loans & Financing Options
When you're ready to see the open road in your RV, turn to Argent Credit Union for an RV loan.  We can help you pay less for your RV with a low-interest rate, and you can skip the hassle with our simple application process.
Borrow up to 100% of the purchase price of new RVs  (including tax and license fees)
Terms up to 180 months available*
Ship's mortgage is required for boats 25 ft. or more in length.
Enjoy low rates and flexible terms
Fast loan approval
Apply online or call 804-748-9488 or 800-943-3328 option 1
Enjoy Low Interest Rates
You can secure low interest rates starting at 4.49% for your RV loan.
New RVs 2020-2016
| | |
| --- | --- |
| APR | Terms |
| 4.49% | up to 48 months. |
| 4.99% | 49 – 75 months. |
| 5.74% | 76 – 120 months. ($30,000 minimum) |
| 6.99% | 121 – 180 months. ($50,000 minimum) |
Used RVs 2015-2010
APR
Terms
5.49%
Up to 48 months.
5.99%
49 – 75 months.
6.74%
76 – 120 months. ($30,000 minimum)
*APR=Annual Percentage Rate. Repayment example: 4.49% APR would equal a payment of $22.80 per $1,000 borrowed for 48 months. Rate includes a .25% discount for autopay setup. The rate you pay will be based on your credit history and term. If your risk profile puts you in a higher risk category your rate may be higher. Rates shown are subject to change without notice. Rate and term affected by credit history and amount financed. Certain terms may not be available for all risk categories.
**Used RVs and boats can be financed for up to 100% of NADA retail value or BUC price guide. Loans cannot exceed the purchase price. The annual percentage rate for terms up to 180 months as low as 6.99%. Repayment example: 6.99% APR would equal a payment of $8.99 per $1,000 borrowed for 180 months. Rate based on credit qualifications and other restrictions may apply. Additional rates and terms available. Subject to credit approval.
Loan payment calculator
Want to know what your RV loan payment might be?  You can use our loan payment calculator to get an estimate.
Just insert your loan amount, annual percentage rate and a desired length term of your loan, and a monthly payment amount will automatically appear.
Loan Process
We offer a hassle-free RV loan application process. Just follow this simple 3 step process, so you're one step closer to securing your RV and hitting the open road.
[Insert a diagram of the loan application process]
Step 1: Complete your application
You can submit your application online or give us a call at  804-748-9488 or 800-943-3328 to complete your application.
Step 2: Wait for your application to process
Once we receive your application, we will process it and let you know our decision.
Step 3: Complete your RV loan paperwork
When your loan is approved, you will work with a member of our RV loan team to sign the paperwork needed to complete your loan.
RV loan resources
Our RV loan resources are available to help you qualify for your loan and make payments on your terms.
Frequently asked questions about RV loans
Have questions about getting an RV loan? Our frequently asked questions section can help you get answers to some of our most commonly asked questions. If you don't see an answer to your question, give us a call at 804-748-9488 or 800-943-3328.
What are the typical RV loan terms?
The average RV loan is for 10-15 years, but some lenders will extend up to 20 years, depending on the RV price. You can get a loan term up to 15 years for a new RV loan from Argent Credit Union.
How hard is it to get an RV loan?
Securing an RV loan is different than qualifying for an auto loan. Depending on the length of your RV loan and your loan terms, it could require that you complete additional steps to qualify. However, at Argent Credit Union, we work with every member to do what's needed to get you approved.