Teaching Kids About Money Now So They're Financially Independent Later
Teaching kids about money and exposing your kids to finances at a young age will empower them to be financially independent when they're older.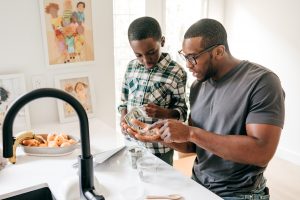 One in four U.S. adults with young children said their parents taught them essentially nothing about money when they were kids, according to a 2019 survey by CreditCards.com.
Some schools include a certain amount of financial education in their curriculums, but parents remain the main teacher of financial education, especially when it comes to learning about money.
So here are three uncomplicated tips for teaching kids about money to make it easy for you as a parent.
Turn Learning About Money Into a Game
Kids and parents alike, love games. Who doesn't love Monopoly? Turn learning about money into a game. Jim Brown, a financial consultant said he used "shopping games." He would give his kids cash and send them to the store to see if they could buy the right items without overspending.
This is an easy way to introduce money and how it works to your kids.
Look for Opportunities to Teach Your Kids About Money
The old saying, "kids do what you do not what you say" holds true with money as well. As kids get older and start earning money, they will begin to follow the way you handle money. If they see you using a credit card all the time, they will do the same thing.
Teach your children the importance of savings and delayed gratification. Let them see you put money into a savings account for a larger purchase later. This will teach them to save first and reap the gratification of spending later, once they have enough money.
Make Your Lessons Age-Appropriate
Remember to make sure the financial lessons you're trying to teach are appropriate for your kid's age. Teaching a 5-year-old about credit card debt is NOT appropriate. Failing to teach your high schooler about interest rates and how to use credit or debit cards responsibly is also NOT wise.
Make it age-appropriate and based on their understanding level at that time.
Empower Your Children
Remember, as the parent, you want to empower your child to make wise financial decisions. It starts by teaching them at a young age and consistently helping them through their teen years. Taking these steps now is worth the time and effort!