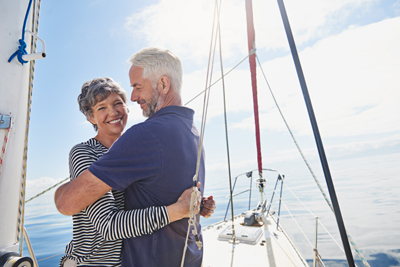 Boat Loans & Financing Options
Reward yourself with some time in open waters by taking out a boat loan through Argent Credit Union. Our team makes it easy for you to enjoy fun in the sun, one adventure at a time with our outstanding boat loan benefits.
Argent Credit Union is proud to offer:
100% Borrowing Quotient: Borrow 100% of your boat's purchase price, including all relevant taxes and license fees.
Flexible Term Lengths: Borrow on terms up to 180 months for new boat purchases.
Be aware that a ship's mortgage will be required on all boats measuring longer than 25 feet in length.
Low Rates: Enjoy competitive APR on all boat loans.
Fast Loan Approval: Get approved quickly by submitting relevant information to our team of loan officers.
Boat Loans Payment Calculator
Want more information about how much your new boat loan will cost you? Get answers now by using our boat loan payment calculator. Simply add any relevant information to the blank fields, and view your customized monthly rates that allow you to plan for the future.
Boat Loan FAQ
Below are some of the most frequently asked questions related to boat loans and financing options through Argent Credit Union.
How do I apply for a boat loan?
There are three methods of applying for a boat loan: in person, online, or via phone. Visit any of our local branches to speak with a loan officer, or apply online at your convenience. For phone calls, reach out to the loan team at 804-748-9488, or 800-943-3328 and select option 1 to get started.
What credit score do I need to get a boat loan?
Credit scores are often attributed as the make-or-break criteria of receiving a loan, but this is not always the case. Reach out to a member of our team for more information.
How The Loan Process Works
Argent Credit Union makes the boat loan approval process safe, efficient, and hassle-free.
1. Submit boat loan details
The first step in the loan process is to provide all relevant loan details. Loan details include the age, make, and purchase price of the boat model in question, as well as desired term lengths.
2. Complete application details
This is the personal information section of your loan application. Inquiries may include, but are not limited to proof of income, credit history, and Equifax score.
3. Submission and reply
After your loan application is submitted, our loan officers will review your information and deliver a timely reply.
Ready to get started?