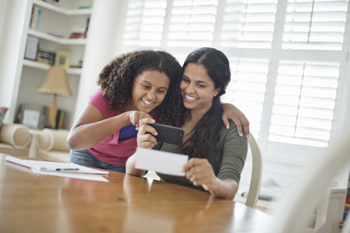 Deposit Checks Anytime
With Argent's mobile app, you can save yourself a trip to the branch and deposit a check from virtually anywhere.  No more carrying around valuable checks until you have time to make it to the credit union.  You can safely deposit checks as soon as you receive them.
It's Easy, Convenient & Secure
Easy
Simply follow the instructions to take a picture of your check.
Convenient
Deposit checks on your schedule, from anywhere, 24/7.
Secure
Deposit checks securely from your mobile phone or tablet.
How It Works
Follow these simple steps to get started:
Select Mobile Deposit from the menu in the Mobile App.
Use For Mobile Deposit Only.

For Mobile Deposit Only
Argent CU Account # XXXXXX
Signature

Take a picture of both the front and back side of your endorsed check.
Enter the deposit amount and choose the deposit account.
Click Make Deposit and get confirmation of your deposit.
In the View Deposit History section, the status will be "Pending". Once it has been received and posted to your account, the status will change to "Completed".  The maximum amount that will be accepted per check is $2500 and there is no limit to the number of checks that can be deposited daily.
It's FREE!
As long as you're enrolled in home banking and have our mobile app, you can start at any time.  Mobile Deposit is FREE so you can deposit a check right now!
Need our Mobile App?
It's available for download in the App Store and Google Play.

Get the iOS App         

Get the Android App

Need to enroll in Home Banking?
Visit our Home Banking page for instructions on completing the form.