Home Equity Line of Credit (HELOC)
Tap into a simple source of money to pay for ongoing projects and expenses
Benefits of an Argent Credit Union HELOC

Low Introductory APR*

Borrow up to 90% of your home's equity

Money when you need it
What You Need to Know About a Home Equity Line of Credit
A HELOC allows you to borrow against the equity in your home giving you flexible access to credit. It's the perfect option for home renovations, tuition expenses, or debt consolidation.  You can even use the money for a wedding or dream vacation.
HELOC Details
Introductory rates starting at 3.49% APR* for the first 12 months. Variable rate thereafter as low as 8.25% APR*.
Only pay interest on the portion of money used.
Borrow as you need, when you need it, up to your maximum credit limit.
10 year repayment term.
Want to know what your payment could be?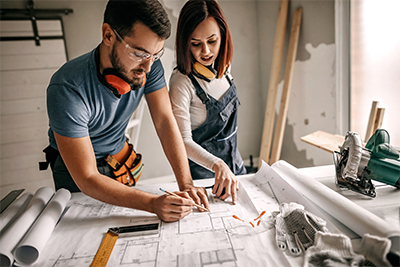 Applying for an Argent Credit Union HELOC is Easy
Click "get started" and complete the application
When you have completed the application, click submit and we will review your information
An Argent Loan Officer will follow up to answer any questions, it's that easy!
★★★★★
"Such great staff. It's like visiting family, they really care."
-Sarah G.
"I have been with the credit union for over 20 years! It has always been a great experience with all of the services I have used over the years. I would and do recommend them to anyone looking for a good banking experience!"
– Lou M.
FAQs About HELOCs
What's the difference between a credit union home equity loan and a HELOC?
Both these products let you access the equity in your home using your home as collateral so you can usually get lower interest rates than other types of loans. The interest you pay on these products may be tax deductible, consult your tax advisor for more information.  Another advantage is that there may be less paperwork and lower closing costs than if you did a cash-out mortgage refinance. 
Here's what to know about a HELOC vs. home equity loan:
A HELOC works in a similar way to a credit card in that you have a credit limit and you can use as much or as little of the money as you need at any given time. You can then use the funds again after you pay some or all of the money back.
The draw period is how long you have to use the money and you typically have an additional repayment period. 

You only pay interest on the portion of money used. 

Each month, you can pay the minimum due, a larger portion, or the complete balance. 
By contrast, a home equity loan is a type of fixed-rate installment loan similar to many personal loans or auto loans.
You borrow an agreed-upon amount and receive the money in a lump sum payment. 

You then make regular monthly payments over your loan term until the loan is paid off in full. 

Rates are fixed, so budgeting can be simpler than for a HELOC.
What can I use my HELOC funds for?
What percentage of my equity am I eligible to use with a HELOC?
Is it possible to make automated payments on my HELOC through a checking account?
How can I check my application status?
Do I need to become a member of Argent to apply for a HELOC?
Why join Argent?